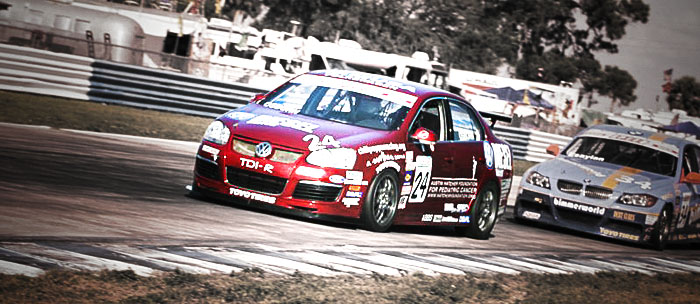 Race / TV Schedule | Technology | Race Car Info
EuroGEAR USA is proud to team with Chili Pepper Racing for the SPEED World Challenge Touring Car Championship to debut the world's first production based diesel race car in a professional racing competition.

Since 2002, Jim Osborn and Chili Pepper Racing have been competing in the SPEED World Challenge Touring Series. After retiring their BMW E46, Osborn and company decided to build a new race car using the MKV Volkswagen Jetta TDI platform which uses environment friendly bio-diesel. "Words can't describe how excited we are about this project." Osborn said. "Bringing a diesel car to SPEED World Challenge is a great stage to showcase how far diesel has come and encourage the use of alternative fuels."

As a technological partner, EuroGEAR utilized its latest advances derived from its Motorsport Division to dramatically reduce the car's weight by developing lightweight, racing spec carbon fiber components. Using its race program technology, EuroGEAR was able to reduce the weight of each component by at least 60% while increasing strength to endure the abuse to the vehicle that accompanies professional racing.

The Jetta TDI is also equipped with a full aerodynamic body kit from DEVAL and a carbon fiber splitter designed and perfected from data collected from actual races and track runs to further improve the vehicle's aerodynamics and down force.

Producing over 245 HP and 300 ft-lb torque (restricted), this 1.9 liter turbo diesel race car is set to make noise in the motorsports world. The development of the project not only advances motorsports technology, but also demonstrates the potential of environmental friendly vehicles.

For the coming season, the #24 car will compete in 10 races this season and will make its debut at Sebring on March 12-14.